TT 60
Theban Tomb TT60 is located in Sheikh Abd el-Qurna. The necropolis of Sheikh Abd el-Qurna is also known as the Valley of the Nobles. It's part of the Theban Necropolis, on the west bank of the Nile, opposite to Luxor. This is the most frequently visited cemetery on the Theban west bank, with the largest concentration of private tombs.
In 1920, when Egyptologists Nina M. Davies and Norman de Garis Davies revealed Tomb TT60 to the world. It's located on the west bank of the Nile and belongs to Senet and Intefiqer (Antefoqer) who was Governor of the city and Vizier of Senusret I in the 12th Dynasty.
It acted as the final resting place of a woman named Senet but provides a great place for a very high commissioner by the name of Intefiqer (aka Antefoqer, Antefoker, Antefiker, Intefiqer, Intefiker). Although it should be noted this wasn't his final resting place. Intefiqer was buried in a mastaba at Lisht, next to the pyramid of Amenemhet I.
Intefiqer was overseer of the city and Vizier under Amenemhet I and Senusret I during the early 12th Dynasty (1991–1802 BC). He is known from several rock inscriptions in Lower Nubia, showing that he was part of a military mission into this region.
We know that Senet was the name of Intefiqer's mother but because it was a common name, it could have also been the name of one of his wives. So in this case, all we can say is that Senet was either the wife or mother of Intefiqer.
She was clearly important because the is one of the only funerary complexes known for a female of the Middle Kingdom, and the oldest Theban tomb decorated of this period that has survived in good condition.
His tomb's entrance leads into a long corridor, which in turn leads into an inner chamber with a deep niche. From this room, a shaft goes down to the actual burial chamber.
The tomb is located at Luxor, on the west bank of the Nile, on the slope of the hill Sheikh Abd el-Qurna, in the area referred to as the upper enclosure. Situated close to the summit. Later, it became surrounded with tombs of the New Kingdom. TT60 is located slightly to the right and above of tomb TT83.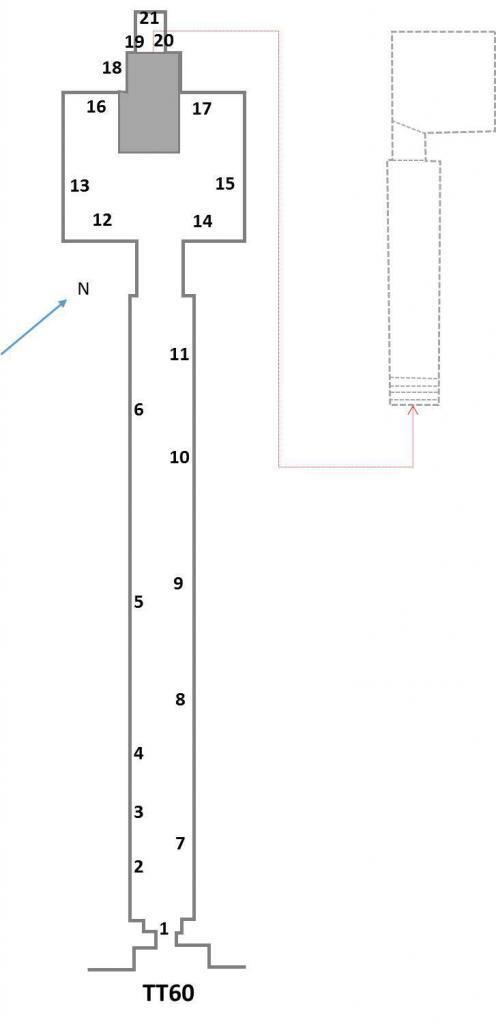 TT60 was originally discovered in the late 1800s but was neglected. It was necessary to wait until 1907 for its entry to be blocked by a metal door. Between 1907 and 1909, Weigall and Gardiner begin to prepare their publication. In 1914, Davies resumed the work of Weigall, until the main edition in 1920
Axis in degrees: 25.92
Axis orientation: Northeast
Site Location
Latitude: 25.44 N
Longitude: 32.36 E
Elevation: 188.43 msl
North: 99,545.755
East: 94,277.777
JOG map reference: NG 36-10
Modern governorate: Qena (Qina)
Ancient nome: 4th Upper Egypt
Measurements
Maximum height: 1.92 m
Minimum width: 1 m
Maximum width: 6.57 m
Total length: 20.98 m
Total area: 55.66 m²
Total volume: 86.62 m³