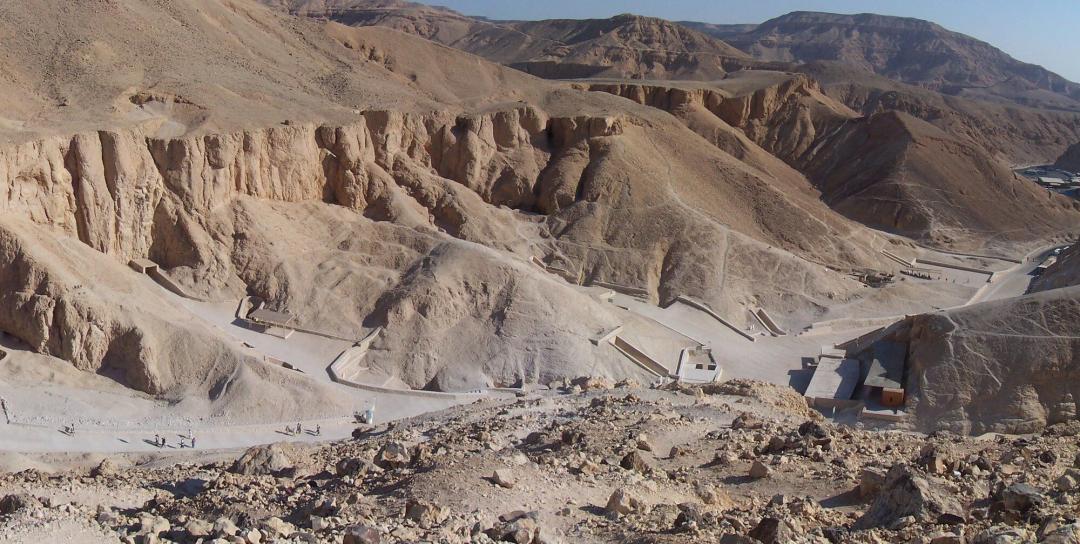 KV 65
KV65 is an unexcavated, possible tomb located in the Valley of the Kings, near Luxor, Egypt. As of August 2008, when its discovery was announced, nothing of its layout, decoration, or owner is known; the tomb entrance appears to be of an 18th Dynasty style.
So far the only thing we know about KV 65 is from Zahi Hawass who tells us that inside they found tools that were used for tomb construction.
General Information
Structure: KV 65
Location: Valley of the Kings, East Valley
Owner: Unkown
Site type: Tomb
Discovered: July 2008
Despite some rumors and erroneous reports, KV 65 is not thought to the long the lost tomb of Nefertiti. Although because of the style of the entrance of the tomb, KV 65 does appear to be from the 18th dynasty of which Nefertiti is from. Egyptologist Zahi Hawas has stated that he feels he will find Nefertiti's tomb in the cemetery of the architect Imhotep in Saqqara.
There were 15 known Pharaoh's from the 18th dynasty which includes:
Ahmose I

Amenhotep I
Thutmose I
Thutmose II
Hatshepsut
Thutmose III

Amenhotep II

Thutmose IV
Amenhotep III
Amenhotep IV (Akhenaten)
Smenkhkare
Neferneferuaten

Tutankhamun

Ay
Horemheb
Of the 15, three have not had their tombs discovered.
Ahmose I

Smenkhkare
Neferneferuaten
Neferneferuaten (Ankhkheperure) is often identified as Queen Nefertiti).
Ankhkheperure-mery-Neferkheperure/-Waenre/-Aten Neferneferuaten was a name used to refer to either Meritaten or, more likely, Nefertiti. This pharaoh was thought to have ruled from 1334-1332 BC.

The archaeological evidence relates to a woman who reigned as pharaoh toward the end of the Amarna Period during the Eighteenth Dynasty. Her sex is confirmed by feminine traces occasionally found in the name and by the epithet Akhet-en-hyes ("Effective for her husband"), incorporated into one version of her second cartouche.

She is to be distinguished from the king who used the name Ankhkheperure Smenkhkare-Djeser Kheperu, but without epithets appearing in either cartouche.

If this person is Nefertiti ruling as sole pharaoh, it has been theorized by Egyptologist and Archaeologist Dr. Zahi Hawass that her reign was marked by the fall of Amarna and relocation of the capital back to the traditional city of Thebes.
I'll update this page as further information about KV65 tomb becomes available.