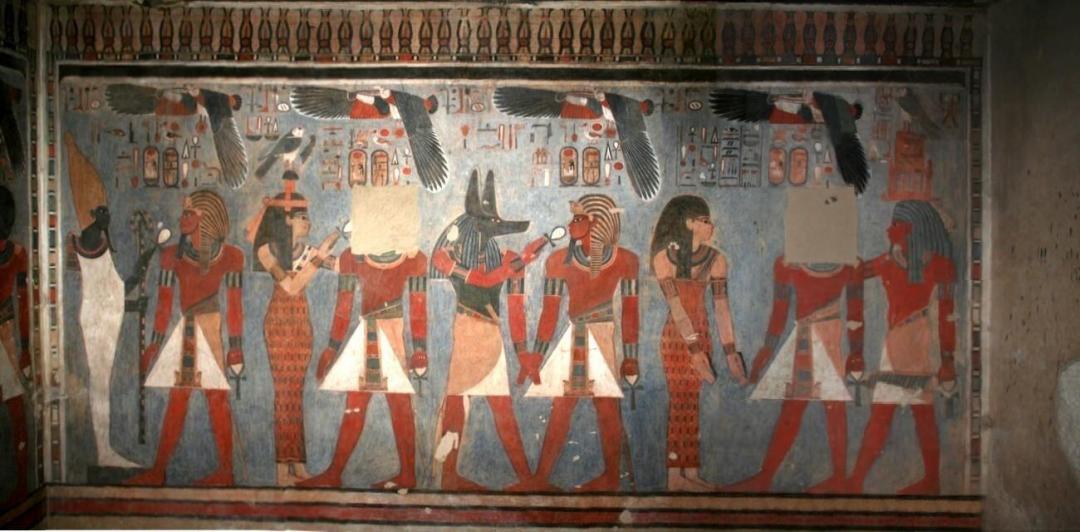 KV 22
General Site Information
Structure: KV 22
Location: Valley of the Kings, West Valley, Thebes West Bank, Thebes
Owner: Amenhotep III
Other designations: 22 [Lepsius], a [Burton], Tombeau isolé de l'ouest [Description], W. 1 [Wilkinson], WV 22
Site type: Tomb
Description: KV 22 lies midway into the West Valley on an embayment on the east side. In plan, it is very similar to the tomb of Thutmose IV ( KV 43). It consists of two corridors (B, D), separated by a stairwell (C), leading to well chamber E with shaft and side chamber Ea, a pillared chamber (F) with side descent, a corridor (G), a stairwell (H), another chamber (I), and the burial chamber J. The burial chamber has several side chambers leading off it (Ja-Je). Side chambers Jb and Jc each have a side chamber (Jbb and Jcc). The tomb is decorated with the Imydwat (burial chamber J), and representations of the deceased with deities (well chamber E, chamber I, burial chamber J).
Noteworthy features: This tomb is the largest in the West Valley of the Kings. Two subsidiary burial suites, with pillar and side chamber, are located off burial chamber J. There is a pit for canopic equipment. The king represented with the royal ka is rather unique.
Axis in degrees: 95.85
Axis orientation: East
Site Location
Latitude: 25.44 N
Longitude: 32.36 E
Elevation: 171.11 msl
North: 99,682.550
East: 93,539.550
JOG map reference: NG 36-10
Modern governorate: Qena (Qina)
Ancient nome: 4th Upper Egypt
Surveyed by TMP: Yes
Measurements
Maximum height: 4.98 m
Minimum width: 0.79 m
Maximum width: 8.42 m
Total length: 126.68 m
Total area: 554.92 m²
Total volume: 1485.88 m³
Additional Tomb Information
Entrance location: Hillside
Owner type: King
Entrance type: Staircase
Interior layout: Corridors and chambers
Axis type: Bent
Decoration
Categories of Objects Recovered
Accessories
Architectural elements
Carpenters' and sculptors' tools
Furniture
Human mummies
Human remains
Jewelry
Lighting equipment
Mammal remains
Models
Sculpture
Tomb equipment
Transport
Vessels
Warfare and hunting equipment
Written documents
Site History
The tomb KV 22 was apparently initiated by Thutmose IV, as his name appears on the material in the foundation deposits. It was completed and decorated by Amenhotep III. It is possible that Tiyi and Sitamen were also to be buried here. The sarcophagus box was removed at some unknown time in antiquity, perhaps for reuse, although no trace of it has been found. The mummy of the king was moved to the cache in KV 35 during the reign of Smendes. There is evidence of intrusive burials, probably of the Third Intermediate Period, including fragments of a wooden coffin in the well.
Dating: This site was used during the following period(s):
New Kingdom, Dynasty 18, Amenhotep III
New Kingdom, Dynasty 18, Thutmose IV
Third Intermediate Period
History of Exploration
Devilliers du Terrage, Réné Édouard (1799): Discovery (but tomb may actually have been known to William George Browne)
Jollois, P. (1799): Discovery (but tomb may actually have been known to William George Browne)
Napoleonic Expedition (1799): Epigraphy
Napoleonic Expedition (1799): Mapping/planning
Gordon, J. (1804): Visit
Franco-Tuscan Expedition (1828-1829): Epigraphy
L'Hôte, Nestor (1829): Visit
Lepsius, Carl Richard (1844-1845): Epigraphy
Loret, Victor (1898-1899): Epigraphy
Davis, Theodore M. (1905-1914): Excavation
Carter, Howard (1915): Excavation (discovery of five foundation deposits for Earl of Carnarvon)
Hornung, Erik (1959): Epigraphy
Hornung, Erik (1959): Photography
Piankoff, Alexandre (1959): Epigraphy
Waseda University (1989-): Conservation
Waseda University (1989-): Excavation
Conservation
Conservation history: The tomb was superficially cleared by Theodore Davis in 1905-1914. Howard Carter excavated more thoroughly in 1915. Over three seasons in 1989 and 1990, the tomb was re-cleared by Sakuji Yoshimura and Jiro Kondo of Japan's Waseda University. Now, they are focussing on conserving and cleaning paintings on the walls and ceiling of the tomb.
Site condition: During the nineteenth century, unknown visitors to the site removed several paintings of faces from the walls and pillars, some of which are now in the Louvre. The paintings have been damaged by salt efflorescence. Cracks in the pillars have expanded.