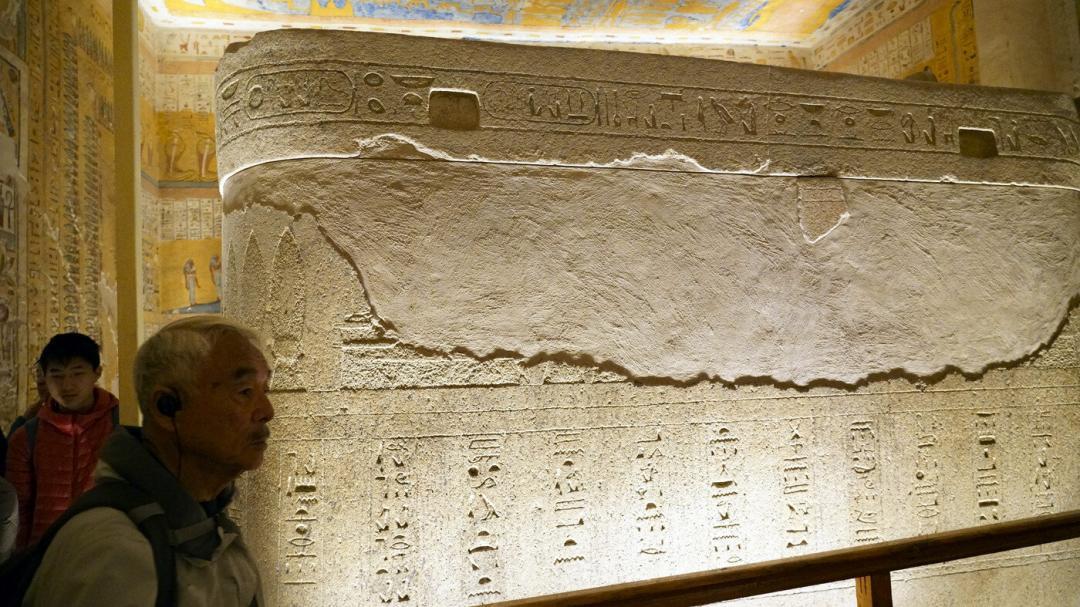 KV 1 – Tomb of Ramesses VII
Tomb KV 1 was used for the burial of Ramesses VII. Usermaatre Setepenre Meryamun Ramesses VII was the sixth pharaoh of the 20th Dynasty of Ancient Egypt. He reigned from about 1136 to 1129 BC.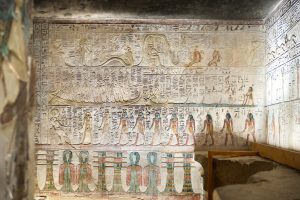 Although he was originally buried in KV1 when he died, his mummy has never been found, though four cups inscribed with the pharaoh's name were found in the "royal cache" in DB320 (also known as tomb TT32) along with the remains of other pharaohs.
DB320 is located next to Deir el-Bahri, in the Theben Necropolis, opposite of the modern-day city of Luxor. It contains the last resting place of High Priest of Amun Pinedjem II, his wife Nesikhons, and other close family members, in addition to an extraordinary collection of mummified remains and funeral equipment of more than 50 kings, queens, and other New Kingdom members of the royalty, as it was later used as a cache for royal mummies during the Twenty-first Dynasty.
General Site Information
Structure: KV 1
Location: Valley of the Kings, East Valley, Thebes West Bank, Thebes
Owner: Rameses VII
Site type: Tomb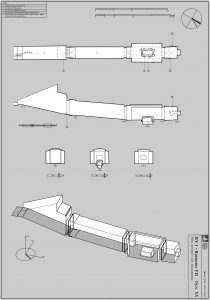 The entrance is cut into the base of a hill at the end of the first northwest branch wadi. This unfinished tomb comprises an open entryway ramp (A), corridor B, vaulted burial chamber J, and an unfinished chamber (K) with a rear recess. The walls are decorated with excerpts from the Book of Gates (chamber K), Book of Caverns (corridor B), Book of the Earth (burial chamber J), Opening of the Mouth ritual (corridor B), and the deceased with deities (corridor B, chamber K, burial chamber J). The ceilings are painted with motifs of flying vultures and astronomical figures. There are 135 Greek, and several demotic, Coptic, and nineteenth-century graffiti in the tomb, indicating that KV 1 has been accessible since antiquity.
Noteworthy features: The conversion of the second corridor to a burial chamber is noteworthy. Its central two-tiered pit in the floor, provided with canopic jar niches in the sides, is unique.
The figure of the king with the goddesses adorning the sun disk on the outer lintel of gate B is a first.
This is one of the latest tombs to be cut in a side wadi.
It was used as a dwelling by Coptic monks.
Axis in degrees: 327.72
Axis orientation: Northwest
Site Location
Latitude: 25.44 N
Longitude: 32.36 E
Elevation: 171.219 msl
North: 99,803.743
East: 94,006.256
Modern governorate: Qena (Qina)
Ancient nome: 4th Upper Egyptian
Measurements
Maximum height: 4.25 m
Minimum width: 2.74 m
Maximum width: 5.17 m
Total length: 44.3 m
Total area: 163.56 m²
Total volume: 463.01 m³
Additional Tomb Information
Entrance location: End of spur
Owner type: King
Entrance type: Ramp
Interior layout: Corridor and chambers
Axis type: Straight
Decoration
Grafitti
Painting
Sunk relief
Categories of Objects Recovered
Architectural elements
Domestic equipment
Furniture
Tomb equipment
Vegetal remains
Vessel stands
Written documents
Site History: t the time of the king's death in his seventh regnal year, work on the tomb's third corridor (now chamber K) was abandoned and the second corridor was enlarged and became burial chamber J. A break in the end of the granite pit cover was made by robbers to gain access to the burial. The tomb was used by Christian monks or hermits as a dwelling.
Dating: This site was used during the following period(s):
New Kingdom, Dynasty 20, Rameses VII
Byzantine Period
Graeco-Roman Era
History of Exploration
Pococke, Richard (1737-1738): Mapping/planning
Napoleonic Expedition (1799): Mapping/planning (plan and section, and recording of decoration details)
Burton, James (1825): Mapping/planning
Wilkinson, John Gardner (1825-1828): Visit
Hay, Robert (1825-1835): Mapping/planning (drawings of tomb and sarcophagus)
Lane, Edward William (1826-1827): Visit
Franco-Tuscan Expedition (1828-1829): Epigraphy
Lepsius, Carl Richard (1844-1845): Epigraphy
Ayrton, Edward Russell (1906): Excavation (reopening of the tomb and removal of the coffin containing the mummy of Rameses VII to the Cairo Museum, filled in the entrance to the tomb, the location of which was then forgotten)
Service des Antiquités (1952 or later): Excavation
Piankoff, Alexandre (1958): Photography
Brock, Edwin C. (1983-1984, 1990, 1994): Excavation (search of the burial pit, dump, and foundation deposit for the Royal Ontario Museum)
Conservation history: In 1994, the Supreme Council of Antiquities cleaned the tomb's walls and filled cracks in walls and ceiling with plaster. Some ancient graffiti was covered over in the process. In the same year, the Supreme Council of Antiquities created a walkway from the paved road to the tomb entrance and built a wood shelter with cement benches nearby. A wooden floor, railings, and large glass panels have been installed throughout the tomb.
Site condition: There are major cracks in the walls and ceilings of corridor B. The plaster is intact where it is not damaged by cracks, vandalism, or later graffiti. The paint is in good condition, although much blue pigment has fallen away.